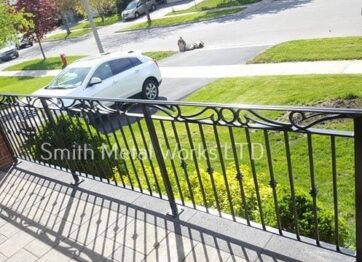 Aluminum railings are ideal for properties where performance and safety are critical but a lighter-weight metal is needed for load limitations, speed or energy efficiency. Read more..
Aluminum Railings Gallery
At Smith Metal Works we had numerous experiences with external properties and projects. Our professional worked with numerous homeowners and contractors.
Aluminum material can face harsh environments, especially in Canada, which necessitate structures that are strong and last. 
Therefore, you won't need to repaint the railing, reapply the powder coating, or provide any staining or sealing treatments.
Aluminum railings won't rust, flake, or fade, but will retain their beauty for a lifetime.
On a side note, while you can wash or spray your aluminum railing from time to time to remove loose dirt and dust, they don't require any maintenance to sustain their beauty. 
For that, it's important to mention the other significant advantages of railing made from forged aluminum over railing made from metal. Plus that they remain strong and stunning.
In addition, they do not have to be galvanized or to be painted with any primer. It has a very fine soft touch compared to metal. 
Finally, whether you want to purchase an aluminum railing or feel undecided about your choices, you are welcome to call us at (905)766-1515 –  One of our friendly representatives will be glad to answer any questions you have.
You can also arrange a free consultation with no obligation to help you select the perfect railing for your home or business.
Smith Metal Works, wish you the best luck with your next purchase!