About
SmithMetalWorks
SmithMetalWorks proudly serves the greater Toronto area and has done so for many years. All of our team members have over 10 years of experience and are able to work with designs of any complexity. We would love to inform you that we work with homeowners, contractors, multi-story building owners, and commercial businesses. Our team views our customers as family and always provides outstanding customer service before, during, and after any job we do. We are specialized in Custom railings, Indoor Railings, Outdoor Railings, Fences, Gates, Windows, Commercial Designs, and Custom Fabrications.
We are simply The Best when it comes to Custom Railings In Toronto & the GTA.
We Always Building Quality Industrial
Best Manufacturing Service Provider
Experienced Trusted Best Contractor
Professional Team to Specific Industry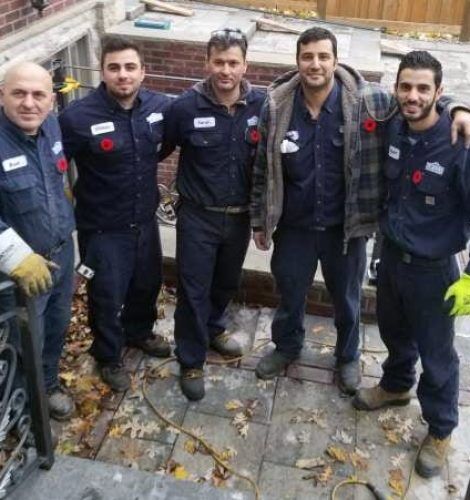 Kamal Shergill
2021-09-02
I was there to pick up a few small metal pieces to install DIY Gate Opener for one of clients and and as soon as i told the Gentleman there to cut me thos 10" × 2" small 2 pieces ,he went to the back shop and got them cut for me and when i asked him the price ,HE SAID ITS OKAY JUST TAKE THEM.Thank you guys.I just not only saved $$ but i also got my door done.God Bless U guys.

Very positive experience with Smith Metal Works. Everyone from Merna in office admin to the installers were professional, kind, and efficient. Communication was honest and clear. Costs and payment time lines were clearly communicated. Project manager and installers explained options and did a nice job. One little outstanding issue at the end was quickly cleared up. The railings look and function great. So happy we worked with them.

The best Aluminum Railing installation service in the GTA area. Highly recommended

Thank you, we are very happy with the finished product. Great service from start to finish. Would highly recommend.

Excellent customer service, beautiful designs and workmanship.

Impressed with service, promptness and genuine manner of both Tarek and Ricki in office. Hand railing looks great. The only fault was I was expecting a design that I had confirmed by a picture Ricki had sent me and the prototype Tarek brought to see if all was well with the measurements was not the same design; slightly disappointed but not with the finished product.
We were extremely happy with the entire process from start to finish. The workmanship and commitment was excellent. They are very professional and dependable. Tarek and Khoshaba was wonderful in response to all calls. Simply one can trust them and buy peace of mind after work order. Price is reasonable. I definitely recommend to others and looking forward to work with them more and more.

Vladimir Martirossian
2020-03-08
We were extremely happy with the entire process from start to finish. The railings are of excellent quality and were delivered when promised. The service was friendly and courteous. Will definitely recommend to others.
Do you needs any help?
Frequently Asked Questions
Contact us in order to send you a quotation as soon as possible.
Our Latest News
What's going on in our blog?
We have worked with some awesome brands.
The Best Custom Railings In Toronto & The GTA