The Best Aluminum Gates In Toronto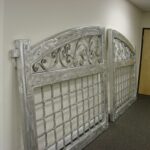 People prefer aluminum gates, but why exactly? This type of gate does well in wet conditions for a certain amount of time, and that means its life cycle is longer. If you do choose aluminum for your gates. Be sure that it is protected either with a baked-on or dipped powder coat finish so your gates do not lose their finish and eventually corrode. Rust-oleum paint is often recommended to maintain the gate's finish, thus it is a good idea to do this frequently with aluminum gates that are not protected by a powder coat finish. We offer the best aluminum gates in Toronto & the GTA.
Why Aluminum?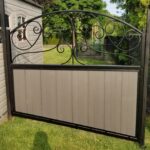 Besides this, aluminum gates are hard and give you the support and also give you the security that you need. One of the aluminum gates is that they are lightweight, have rust-resistant features. They do not also require a lot of maintenance, which means you don't have to paint them every year. Those benefits make aluminum gates popular among people.
Aluminum Gates! What Do We Offer?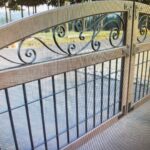 At SmithMetalWorks you can find the aluminum gate you are looking for, and you can order it in different widths so it is proportionate to your fence and needs. Our professional team will deliver the best aluminum gates or any type of gates you like! Visit our gallery to check our previous work and projects.
We Are Certified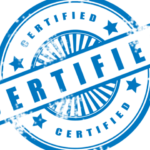 If you are looking for the best aluminum gates in Toronto & the GTA, whether it is an aluminum fence gate, aluminum gate, aluminum deck gate, aluminum driveway gates, residential gates, driveway gates for sale, driveway gate kits. Rest assured you are in a good company's hand, We are certified welders and can help you with your needs.
Awards & Testimonials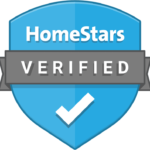 SmithMetalWorks has gained customers' trust and satisfaction over the years. Not only for the aluminum gates service we offer but also for other services. You can read real testimonials from real people on our testimonials page, you can also check our google reviews. We are a proud winner of the Best of HomeStars Awards in the railings category. You can check our reviews on HomeStars website.
Contact Us

For the best aluminum gates in Toronto & the GTA, please do not hesitate to call us or contact us at any time, one of our friendly representatives will be glad to answer your questions. You can also arrange a free consultation with no obligation. We are here to help you select the perfect style or design for your home or business.
For quotation, please fill in the (request a quote) form. Please note that you can upload images to the form, just search our galleries by photo ID. You can download your desired design and reupload it to form. If you want to search all of our galleries at once please use this page.
SmithMetalWorks simply offer the best aluminum gates in Toronto & the GTA.